These are not just socks, and socks. We all have to wear them these days, before we place our feet in our favorite dress or walking shoes. But have you noticed the socks you wear every day don't always keep your feet comfortable. In winter time, your feet still get pretty cold. And during the summer months, your feet become rather sweaty and smelly. This even happens when you wear mountain or hiking socks or cool athletic socks.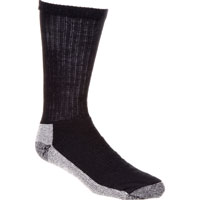 Now, these are not just socks, any socks. These are all weather socks that keep your feet warm and cozy, cool and dry at any time of the year, no matter how hot or cold it gets. Yes, and they are pretty comfortable to wear too. It is the ultimate accessory and contribution towards good orthopedic principles and practices. This means that these socks are pretty healthy for your feet too. This is because a patented TechSpun Environmental Sock System has been woven in.
During the cold winter months your feet can finally stay warm for good. During the hot summer months, your feet can now stay cool and dry. There is no space for bacteria because a Coolmax liner sock is installed into the nap of the thick boot sock. All moisture is wicked away. This helps to keep the skin's surface cool, dry and free of blisters. During the cold climes, the TechSpun system has the ability to keep feet warm in temperatures as cold as minus forty degrees Fahrenheit.
A combination of high-density knit construction and crimped fibers prevent cold air from penetrating the foot's immediate environment. So, it is plain to see; these are not just plain old ordinary socks, not any socks at all.